SOUTHWEST RIVER PROTECTION PROGRAM
To call the Southwest "home" is to love a place forged by wind and water, where jagged peaks roll out onto mesas and valleys that rivers carve into canyons. Some rivers in the Southwest flow year-round with epic pulses fueled by melting snow and monsoons. Like the rains and snows that feed them, some of these rivers are ephemeral, fleeting and intense. In great surges, they upheave and deposit nutrients, flush debris, replenish aquifers, and feed a thirsty landscape.
These dynamic rivers are vital to communities and ecosystems across the Southwest, and well beyond. Many are tributaries to two of the great rivers of the world—the Colorado and the Rio Grande. Southwest rivers flow through sovereign lands of more than 29 Native American Tribes, provide habitat for dozens of species of native fish and diverse wildlife, and offer unique opportunities for recreation, agriculture, and wonder. The Colorado system alone supports more than 35 million people, 4 million acres of irrigated agriculture, and about 20% of the American economy.
American Rivers has long played a critical role in efforts to protect Southwestern rivers and secure the region's water future. In recognition of both current and anticipated threats to these rivers and the vital landscapes that support them, and in the face of a changing climate and growing demand, American Rivers launched the Southwest River Protection Program (SRPP). Through the SRPP, the American Rivers team works with partners to identify and build holistic protections for the region's last, best, free-flowing rivers.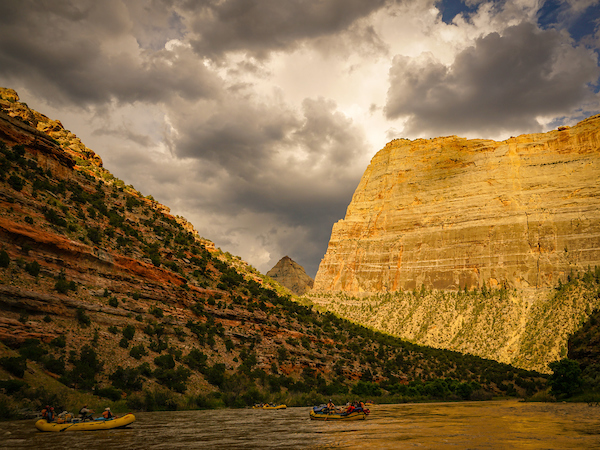 LIFE NEEDS RIVERS
The Southwest River Protection Program utilizes a suite of coordinated strategies to learn, inform, defend, protect, and celebrate the long-term resilience of Southwestern rivers with diverse partners across the region. Tribes continue to rely on these rivers after thousands of years, and we honor that their relationships with the rivers of today will be at the forefront of efforts to conserve them into the future. Communities who rely on water for agriculture, recreation economies, or clean and reliable drinking water will be critical partners in the effort to understand and protect the rivers that weave us all together.
HOW YOU CAN HELP
Visit americanrivers.org/southwest to learn more, sign up for updates, and to become an e-activist. Also feel free to email Michael Fiebig, SRPP director, at mfiebig@americanrivers.org.