Edisto River: South Carolina's Black Beauty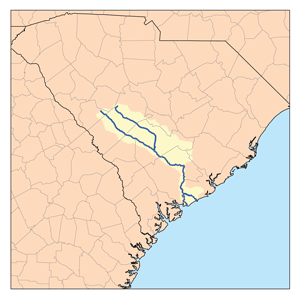 As the longest free-flowing blackwater river in the nation, the tea-stained Edisto River is an intimate attraction that may serve as the single most inviting canoe run in South Carolina. No dams or rapids are found anywhere on the Edisto, just the lazy, lolling current and relaxing ambience one might expect from such a picturesque Southern sanctuary.
The river ranks among the prettiest in the East, framed by massive oaks draped in Spanish moss and the largest old-growth stands of tupelo-cypress in America, as it ambles from spring-fed headwaters in the central Sandhills, through the heart of floodplain forests to the rich estuary of the Ashepoo/Combahee/Edisto (ACE) Basin. It's a paddler's paradise of some 250 miles, punctuated by the 56-mile Edisto River Canoe and Kayak Trail passing through both Colleton and Givhan's Ferry state parks, both offering camping and picnicking sites.
Francis Beidler Forest is a 15,000-acre National Audubon Society Sanctuary that's an internationally renowned destination for spotting dozens of bird species, mammals, reptiles, amphibians, and several rare plants. The Edisto passes through the sanctuary where it meets the braided bottomlands of Four Holes Swamp. Stay on the lookout for redbreast sunfish and other fauna, including wild turkey, beaver, kingfisher, great blue heron, and egrets along the way.
The Backstory
Following the South Fork of the Edisto's appearance in the 2014 America's Most Endangered Rivers® report, the main stem landed on the list proper in 2015. It is the state's most heavily used river for irrigation, and excessive water withdrawals continue to be a major threat to the Edisto, along with other rivers across the state.
While South Carolina has made great strides in reducing industrial and municipal impacts on river health and clean water through permits required during droughts and low flow periods on area rivers, the state needs to meet 21st-century needs for all water users and not just select groups. As it stands today, water policy still allows some water users to withdraw as much as one third of the river during low flow periods, enough water to supply a medium-sized city.
Such dramatically reduced flows have far-reaching consequences, including allowing salt water to encroach higher upstream, potentially killing trees and displacing wildlife that depends on fresh water. Fish habitat suffers, recreational opportunities are threatened and downstream users are increasingly uncertain of their fate.
The Future
American Rivers continues working to provide sustainable water supplies for all, while supporting river health and recreation on the Edisto.
More than 130,000 acres of land have been protected through public/private partnerships in the heart of the ACE Basin, qualifying it as one of the most acclaimed freshwater natural areas found on the East Coast. Undammed and largely undeveloped, the Edisto serves as one of the premier examples of a southern blackwater river from source to sea. It deserves to remain such.