Limited-Edition Art Spotlights Need For Healthy Rivers
February 6, 2023
American Rivers releases art series to celebrate 50th anniversary, inspire action
February 6, 2023
Contact: Amy Souers Kober, 503-708-1145
American Rivers today released the first of five limited-edition works of art to highlight the essential role rivers play in our lives. The series is part of the organization's 50th anniversary celebration and is designed to inspire action for healthy rivers. 
The first release in the series are posters designed by the Globe Collection and Press at MICA. For 80 years, Globe posters promoted musicians such as Tina Turner, Aretha Franklin, and B.B. King, along with festivals and sporting events. Globe's iconic fluorescent background colors and bold black wood-type lettering became its trademark, recognizable across the country. In 2011, the Maryland Institute College of Art stepped in to preserve Globe's archive and keep its legacy alive. The art produced by Globe for American Rivers uses wood blocks from the collection's archive to represent America's Most Endangered Rivers®, explore the importance of rivers, and to celebrate American Rivers' 50 years of conservation impact.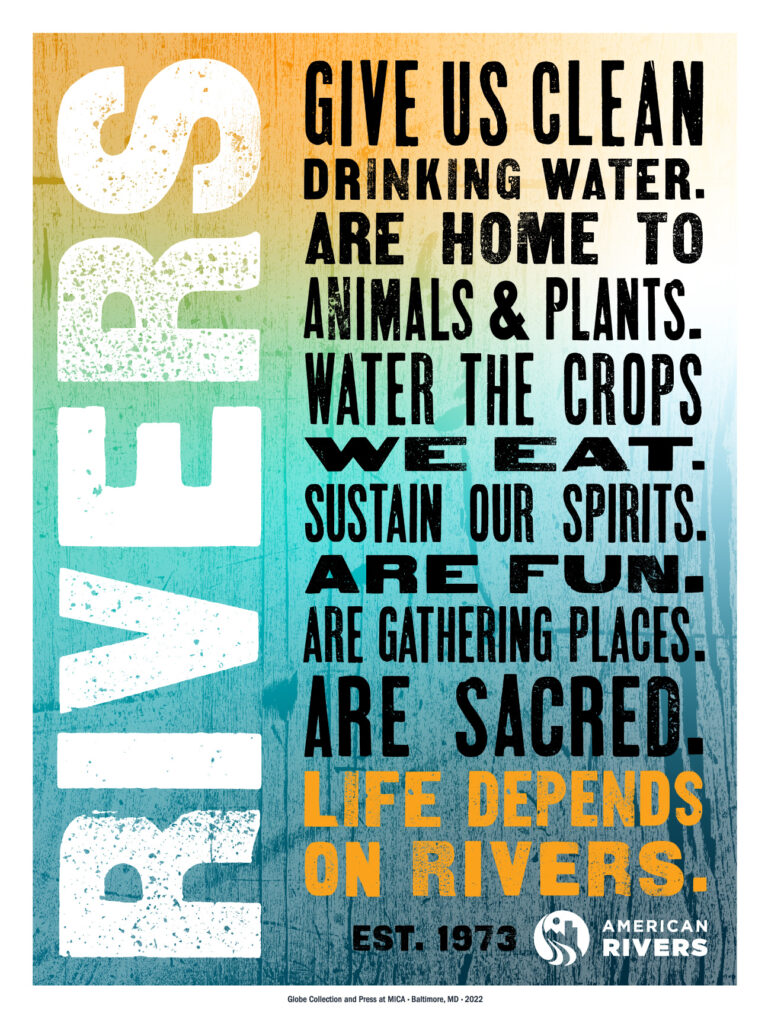 "There's a really nice symbiosis of using wood type as the base of these graphics. Because without rivers, trees don't grow," said Allison Fisher, manager of the Globe Collection and Press at MICA. "I like those really quiet moments in design where things sync nicely or in a way you don't necessarily expect them to."
"We believe art has an important role to play in advocacy," said Katy Neusteter, marketing director at American Rivers. "Art can remind us of our deep connections to rivers and the importance of healthy rivers and clean water in our lives."
Nearly everyone in our country lives within a mile of a river but few know what that river provides. Much of our drinking water comes directly from rivers, and clean water contributes to our health. Natural river habitats support thousands of plant and animal species. Our farms and cities depend on abundant river water for growth. For many of us, rivers offer recreation and a way to connect to nature.

But rivers nationwide are threatened by pollution, dams, and increasing droughts and floods. Perhaps the greatest threat to our rivers is simply lack of awareness of how important they are to our lives. American Rivers is tackling these challenges with a bold vision to 1) protect 1 million miles of rivers, 2) remove 30,000 dams, 3) ensure clean water for every community, and 4) champion a powerful river movement.
"Art inspires action and can help strengthen our nation's river movement. Art can help create the transformational change we need for rivers and river communities everywhere," said Neusteter.
Over the coming months, American Rivers will release additional exclusive artwork by Jade Schulz, Robert Hodgin, Susana Sanchez, and Sarah Uhl.
The art is available for purchase through the American Rivers store: https://www.americanrivers.org/wear-your-love-for-rivers/
About American Rivers
American Rivers is championing a national effort to protect and restore all rivers, from remote mountain streams to urban waterways. Healthy rivers provide people and nature with clean, abundant water and natural habitat. For 50 years, American Rivers staff, supporters, and partners have shared a common belief: Life Depends on RiversSM.
www.AmericanRivers.org