Upper Flint River Working Group

As part of our work to restore and protect the upper Flint River in west-central Georgia, American Rivers has convened the Upper Flint River Working Group since the summer of 2013.
The Working Group's meetings and site visits throughout the basin have provided an open forum regarding the challenges facing the river basin among water utility leaders, non-profit community organizations and others interested in restoring resilience to the upper Flint River system.
The Working Group's geographic focus is on the river and its tributaries from the Atlanta-area headwaters southward through the Piedmont region of the state. The group's purpose was encapsulated in September 2013 at a meeting held at a major Boy Scouts of America scouting base on the banks of the Flint:
The Upper Flint River Working Group's purpose is to keep the upper Flint River and its tributary streams flowing to protect the social, ecological, recreational and economic values the river system provides. Through this voluntary Working Group, diverse stakeholders come together to share information, identify barriers, seek common ground, and proactively pursue opportunities to restore and protect the river system and its flows.
The group's meetings have included in-depth discussion sessions on the challenges facing water utilities in the area, information-sharing on environmental issues in the different portions of the river basin, technical sessions, and site visits to places throughout the basin such as the Flat Creek Nature Area in Peachtree City and the Gerald Lawhorn Scouting Base on the river in Upson County.
In 2014, American Rivers produced the UPPER FLINT RIVER RESILIENCY ACTION PLAN, which aims to guide work by a variety of stakeholders to restore drought resilience to the upper Flint River system. The Action Plan follows on discussions and efforts of the Working Group and on the report Running Dry: Challenges and Opportunities in Restoring Healthy Flows in Georgia's Upper Flint River Basin, which we published in 2013 with Flint Riverkeeper. Designed to be a "living document," the Action Plan charts a plan of work that will be updated and expanded in future years as collaborative efforts in the river basin progress.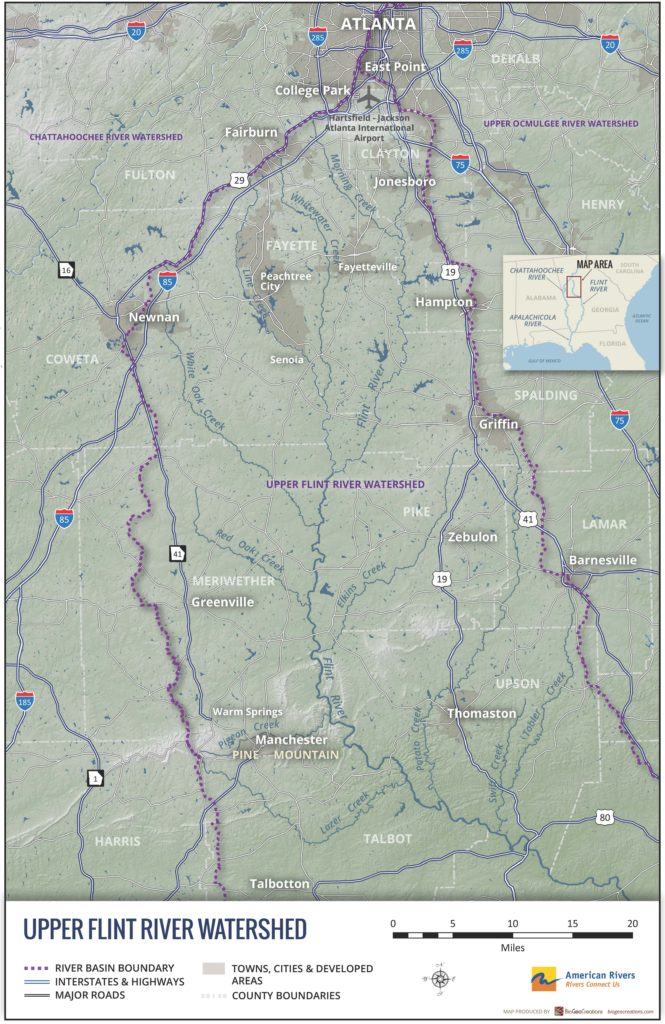 The Action Plan does not dwell on the problems of past practices as much as it looks forward to restoration actions. And it charts ways of reaching out to yet more diverse stakeholders in the basin, since we all must work together to reexamine the ways we use and manage the waters of the upper Flint in order to ensure its health for ourselves and future generations. It is critical that this plan of work evolve alongside on-the-ground, stakeholder-driven, collaborative, transparent and practical efforts to restore resilience to the Flint River basin.
For more information on the Upper Flint River Working Group, please contact Ben Emanuel in American Rivers' Atlanta office at (404) 373-3980.
Upper Flint River Working Group Participants
Ben Emanuel, American Rivers
Jenny Hoffner, American Rivers
Mike Thomas, Clayton County Water Authority
Kevin Osbey, Clayton County Water Authority
Jay Boren, Coweta County Water Authority
Lee Pope, Fayette County Water System
Lisa Speegle, Fayette County Water System
Chris Hindman, City of Fayetteville
Gordon Rogers, Flint Riverkeeper
Mike DeLisle, Georgia Adopt-A-Stream volunteer team leader, Fayette County
Kate McGregor Mosley, Georgia Interfaith Power & Light
Kristin Rowles, Georgia Water Policy & Planning Center
Brant Keller, City of Griffin
Joseph Johnson, City of Griffin
Polly Sattler, Hartsfield-Jackson Atlanta International Airport
Danny Daws, City of Manchester
Brandon Lovett, Newnan Utilities
Susan Lee, Peachtree City Water & Sewer Authority
Pam Young, Southern Conservation Trust
Danny Johnson, Upson County Water System
Brian Hughes, U.S. Geological Survey
Mindy Dalton, U.S. Geological Survey
Matt Grantham, City of Warm Springs
Robert Lovett, City of Woodbury