Middle school students from Missoula, Montana penned these words after drawing inspiration from some of the area's storied free flowing rivers. Since time immemorial, nature has been the inspiration for art, literature, film, and other creative outlets. Cave paintings and petroglyphs depicting animals and land/human relationships were created by Indigenous peoples and remain cherished cultural sites today.
In the early 1800s, Hudson River School landscape painters painted forests, mountains, and wild rivers along with cultivated landscapes like farms. Henry David Thoreau and Ralph Waldo Emerson, among many others, were renowned for nature writing in general, and American nature poetry in particular. Montana's rivers served as the backdrop for Norman Maclean's 1976 novella, A Rivers Runs Through It, and the subsequent film starring Brad Pitt that brought fly fishing to the masses. Wooden bears, fish, and other wildlife carved with chainsaws remain a popular form of sculpture today in Montana.
It's clear that nature and rivers have long had the power to inspire creative expression.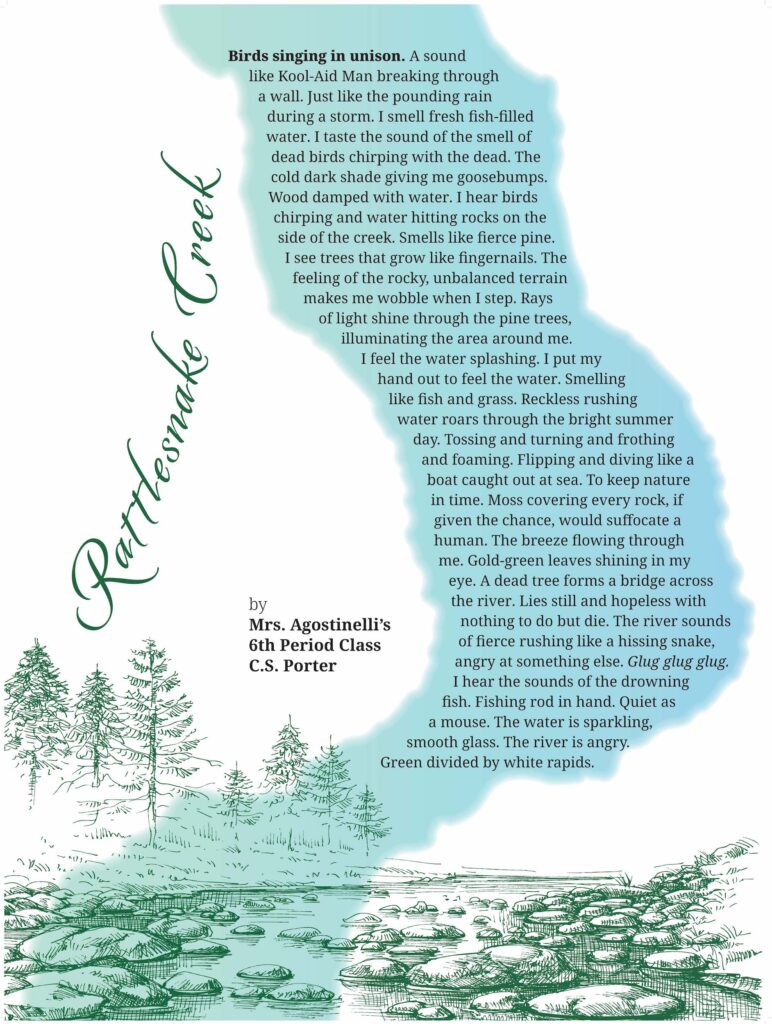 Through a unique partnership, American Rivers has teamed up with the Missoula Writing Collaborative to inspire creative placemaking through "ekphrastic poetry"—poetry inspired by nature photography. Using photographs of water—rushing torrents, placid pools, swirling eddies, and burbling currents—7th grade students at Missoula, Montana's C.S. Porter School authored poems about seven of the 57 western Montana waterways American Rivers seeks to protect through the ongoing Lolo National Forest Plan Revision and future Bitterroot National Forest Plan Revision. Students worked with a local poetry instructor to write poems about the Clark Fork River, Clearwater River, Fish Creek, Kootenai Creek, Morrell Creek, Rattlesnake Creek, and Rock Creek.
A river poetry storymap showcases select young poets' awe-inspiring interpretations and renditions of their home rivers. To move from individual poetry to collaborative work, each student chose a favorite line from their own poem. Woven together, these lines represent the words of each class—in total more than 175 students—and are a testament to the collective power of inspiration.
Designed by local artist Eileen Chontos and debuted to honor National Poetry Month, the River Poetry exhibit opened on First Friday, April 7, 2023 at PureWest Realty gallery and included the following poem panels:
Continued partnerships with community members in Bucksport provided for two additional rain gardens to be installed in early March. The community collaboration, that was developed during the first of two previous rain gardens installed last June at the James R. Frazier Community Center, expanded to include the South Carolina Native Plant Society. Its founder, Rick Huffman, owner of Earth Designs, offered his plant and landscape expertise throughout the planning and construction of the rain gardens.
Three recently certified Master Rain Gardeners, Trapper Fowler with Coastal Conservation League, Catherine Watts with Coastal Waccamaw Stormwater Education Consortium, and Victoria Green with Waccamaw Watershed Academy, at Coastal Carolina University, were able to gain hands-on experience and lessons to hone their new skills.
The videography was provided by Pierre Fignole, III, a student from Coastal Carolina University who is lead videographer on a community story mapping project that will encapsulate the Bucksport community story. The video documentation of the rain garden process will be developed for future use as an education module for community members.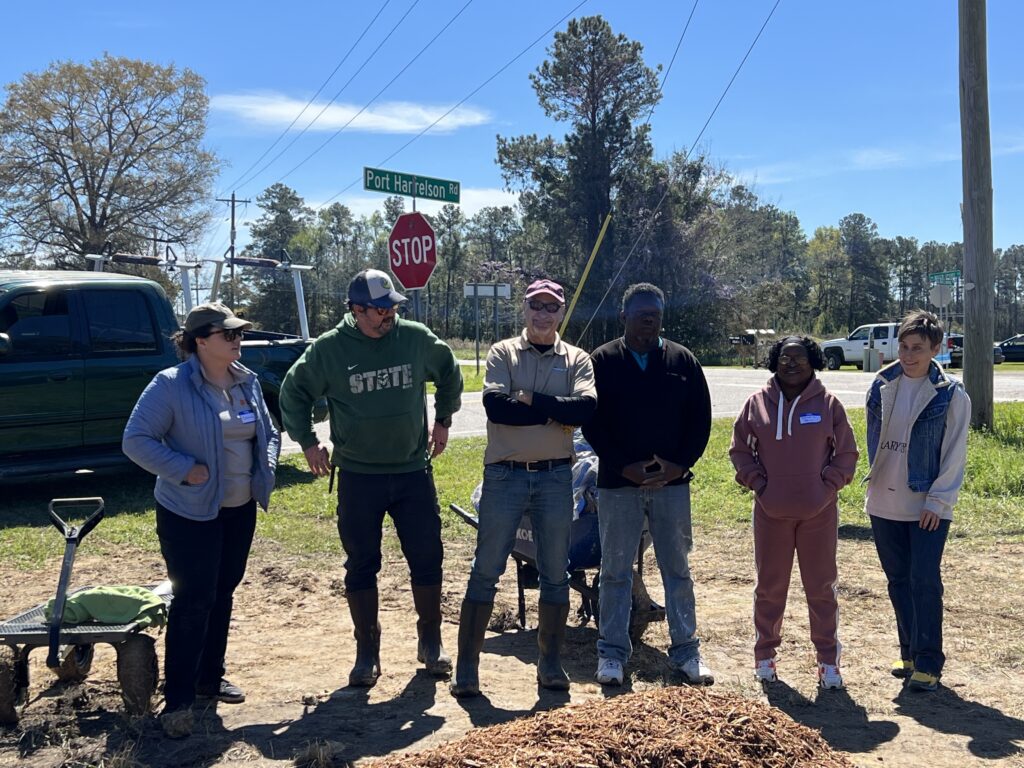 Throughout the process, community members were able to learn the steps for soil sampling and percolate testing to identify what materials would be needed for remediation of the soil at the sites. Two separate sites were chosen as being the most beneficial to aid with flood resiliency, as well as providing for high visibility and ongoing educational value.
The first rain garden was installed at a community member's residence, one that has routinely experienced the impact of flooding resulting from excessive rain. Primarily, due to the timing of rain in the forecast and the location of the site, this phase of the project was conducted with limited community member involvement and was held on the Thursday prior to the Saturday event.
The second rain garden was installed at a highly visible location within Bucksport, across the road from Grace Chapel Church, an historic property that has been earmarked for restoration by the Association for the Betterment of Bucksport. The community's plan for a future Farmer's Market stand was a factor in choosing the second site's location.
Although the weather was windy and somewhat cold, nearly a dozen community members participated on the day of the event. The process for preparation of the second rain garden was adjusted to include gravel and landscape liner to accommodate for drainage due to soil composition. Overall, the rain garden will serve, not only for its benefits of flood remediation, but it will also provide as a pollinator garden to attract bees and butterflies, with the added bonus of the aesthetics for beautification of the community.
The event closed out with community members being served lunch by Donnie Greene at Donnie's Grill, a locally owned restaurant which offers southern and Caribbean cuisine.