Today's post is by guest blogger Bob Rothrock, Board Member with Friends of Verde River Greenway, advocate for the Verde River and organizes river experiences on the Verde River for friends and the public.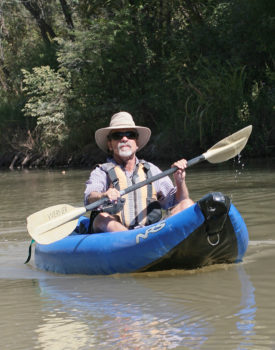 My inflatable kayak was rigged and in the water except for the bow. I stepped into the cockpit, pivoted and sat in one motion, sliding free from the shore. "On the river again. Just can't wait to get on…" was a tune that came to mind. Another Verde River trip begins with less than a day's notice. Decide. Go. Enjoy.
Decades ago I sought out the fast stretches of water, preferably captaining our paddle raft. The thrill of whitewater is a strong draw and high water was available every spring on the Verde and especially the Salt, Arizona's rapid studded gem running from evergreen highlands down to the stately saguaros. Age depleted the peers willing and able to paddle, so I learned to row. Now I was surrounded by creature comforts and still running rapids. The luxury of fresh food, cold beer, and setting up lawn chairs in wilderness was an experience we wanted to repeat whenever possible. Days of planning and packing were a small inconvenience for this reward. Many others agreed and therefore permits became scarce. Then another change occurred and water became scarce, too.
Change is one thing we can count on and our success as humans depends on adaptability. This situation called for a different approach. The small boats that rarely hit the water previously became the craft of choice. A palpable freedom occurs in this choice, similar to backpacking instead of car camping. Flash trips done on the spur of the moment. Group overnights only needing a one truck shuttle. This simplicity has it's own attraction.
So I find myself on the river for as many days as I used to run in those high water, no permit required years. The Verde is our neighborhood river and can be enjoyed in all seasons. Winter's starkness allows deep views into the riparian zone. Spring migration brings birds singing their "Let's Get Together" songs. It is a cool respite from summer's torpor when our on river motto is, "If you're hot, you're stupid". And autumn's most spectacular colors are only found along the flowing waters. Another attraction is a canoe or inflatable kayak turns many classes of water one higher. IIs become IIIs and IIIs can become IVs. In other words, real excitement. Plus you can just decide, go, and enjoy!