On our days off we always take a river trip. In the late 1980's, we noticed how much trash was in the river, especially beer cans and tires. I told my son that we should do something about the trash, but I told him that if we were going to do something, it would have to be done right. So in July of 1990, we planned our first river cleanup.
We didn't have a guide or role model to learn from, so we just put our staff out on the river. That was fine, but we then realized we did not leave enough staff to take care of our customers while we were out cleaning. The next year we decided to send out press releases asking for volunteers. We had a lot of volunteers come out, and we were getting much better at it. That third year, we spent three days on 70 miles of river from the Ten Mile River Access, eight miles north of Barryville, New York all the way down to the Delaware Water Gap in Pennsylvania. We used the fourth day of the cleanup to sort the trash for proper disposal. We also learned that focusing on shorter segments is more productive than longer segments.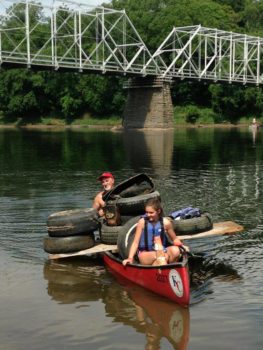 We are the only canoe livery that cleans the Delaware. Almost all of our volunteers are the same ones every year and it is like a big family reunion for them. They all do a remarkable job. By the fourth year of our cleanups, we removed 1,004 tires in one cleanup!
We have been tracking our statistics since our first cleanup in 1990. Over the years we have had 9,066 volunteers, taken out 908,300 pounds of trash, and removed 8,881 tires.
We have received many awards for all of our efforts. The most impressive were three first place awards in Take Pride in PA and two first place awards in Take Pride in America. Our awards were presented to us in Constitution Hall in Washington, D.C. We were invited to the White House to meet with President George H.W. Bush.
Our goal is to continue to clean up the river until it is squeaky clean. We need to keep the river clean for our children, grandchildren and future generations. A clean river will help deter people from throwing trash into it. The river is so clean now that we do the actual cleanup in only two days, instead of three.
-Ruth Jones