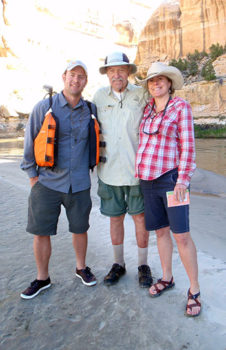 George Wendt, president and founder of OARS, passed away on July 9. I was fortunate to float the Yampa with George three years ago.
I was seven months pregnant, and he was a bit taken aback that I was on the trip. He was worried I'd be ok and was incredibly sweet the entire trip, carrying my dry bag and helping me out of the rafts. Not only was George a gentleman, he was a passionate defender of rivers and champion of conservation.
His dedication to rivers spanned decades. He shared stories with us of places like Glen Canyon and the Stanislaus. He encouraged us to stay committed to wild places and talked about the importance of connecting kids and families to rivers. The support of George and the OARS family has meant so much to American Rivers. I am grateful I got to spend time on the Yampa with him.
Thank you for all of the support and inspiration, George. We will miss you.