Amanda Deaver is a board member of American Rivers and founder and president of Upstream Strategic Communications in Washington, D.C.
"When I was a young adult, my dad took us on a family trip to fish the South Fork of the Flathead River in Montana. I had never been fishing before and it was magical just being on the water together. We had wonderful conversations while floating down the river. My dad and I both loved the fishing and the solitude.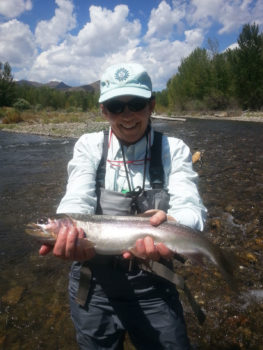 We had both found this passion and sharing it made it even richer. Now my family goes to Idaho every summer. My girls love going back to the same places, all their own special spots, like the bend in the river where they build fairy huts. This past summer we fished the Salmon River for the first time and the girls loved it.
I just sat on the riverbank smiling and watching the joy on their faces. Being on the river helps our family connect in a unique way — there are no devices, TV, homework or distractions. Just all of us together.
Now, for a new generation, rivers are once again bringing us together. It's a gift."