I first became involved with cleaning up the rivers in Fort Wayne around 2008 at Save Maumee Grassroots Organization's annual Earth Day clean up. I helped to clean up the banks of the Maumee River and to install erosion control mats and plant trees. I recently became roommates with Abigail King, the founder and vice president of the Save Maumee Grassroots Organization. In the spring of 2016, with her resources at my disposal, I began a cleanup effort of my own.
In March, I began riding my bike to work again and noticed a lot of trash in an area with many plants and trees. So, at the beginning of April I used Facebook to begin organizing some of my friends to come and help clean up the mess. I used the extra National River Cleanup® bags that Save Maumee received to bag up the trash. I planned this clean up by making posts on my personal Facebook page and eventually created a Facebook Group with the volunteers. Now even the volunteers are using the group I created to plan clean ups on their own in other areas.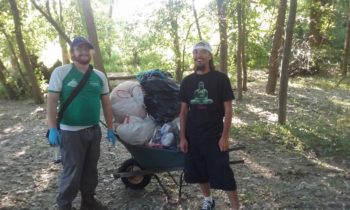 I want to prevent as much waste from entering the river as possible.
I want to make the places I encounter in my daily life look nice to the eye.
I want to raise awareness on the subject of how much waste we have just blowing around the streets and in nature areas.
I want the city to think about how they can budget to include taking care of this waste and protecting the rivers and areas surrounding them by treating them like the precious resources that they are. I could not have done what I did without the help of Abigail King and Save Maumee. This year Save Maumee Grassroots Organization is celebrating their 11th year of action with federal funding in the form of a grant to plant 1,390 trees in riparian buffer areas to begin the healing process that our water needs. In the past 10 years, they have removed several tons of garbage from the river and river banks, installed many erosion control mats, and planted countless trees and native vegetation along the river all on a grassroots budget.
–Greg Morrical