There are more than 2.5 million miles of pipelines across the U.S. and 18,000 places where they cross under rivers, streams and lakes.
According to a ProPublica report, since 1986 pipeline accidents have killed more than 500 people, injured over 4,000, and cost nearly seven billion dollars in property damages.
Fouling the Yellowstone
Montana's Yellowstone River has been fouled by two pipeline breaks in four years.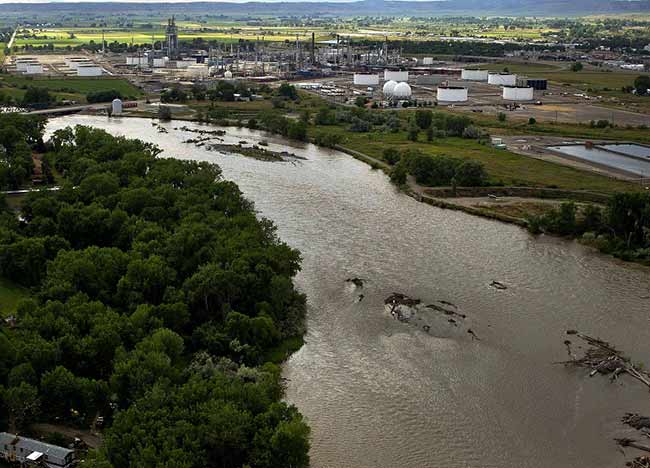 In January 2015, when the Poplar oil pipeline spilled 40,000 gallons of oil into the Yellowstone River in eastern Montana, contaminating water supplies for local residents and harming valuable fish and wildlife habitat.
In July 2011, Exxon's Silvertip Pipeline dumped 63,000 gallons of oil into the river near Laurel, Montana.
During the abbreviated cleanup of the Poplar spill, a total of 1,200 gallons of oil was allegedly recovered from the river.
At the peak of the cleanup effort, a spokesman for Bridger Pipeline, the company that operates the Poplar Pipeline said that oil was being recovered at the rate of one teaspoon every ten minutes. At that pace, it would have taken 1,753 years to remove all the oil from the river.
It wouldn't be fair to blame Bridger for its inability to clean up the spill. After all, the surface of the river was frozen solid for 20 miles below the ruptured pipeline, and a swift current was carrying the oil underneath the ice towards North Dakota. It's doubtful that more than five percent of the oil could have been cleaned up even under optimal conditions.
But it is fair to blame Bridger Pipeline, and the federal agency that oversees pipeline safety, for not preventing the spill in the first place.
When the Poplar Pipeline was last inspected in 2012, it was buried just eight feet under the bed of the Yellowstone River. That's four feet deeper than the minimum depth required by the Pipeline and Hazardous Materials Safety Administration (PHMSA). A large, dynamic river like the Yellowstone can scour twice that depth in a single flood event.
So it should have come as no surprise when investigators discovered that 120 feet of the Poplar Pipeline was totally exposed following the spill. It was an accident waiting to happen.
Focus on spill prevention
While the energy industry will complain about the cost, we need to demand common sense safety measures like burying pipelines much deeper under rivers, constructing them with thicker steel, requiring automatic shut-off valves, mandating more frequent inspections, and dramatically increasing fines for acts of negligence. Failure to implement these measures is an invitation to more oil spills, more contaminated water supplies, more sickened people, and more fish and wildlife kills.
Better yet, we should accelerate our nation's transition away from dirty fossil fuels and toward cleaner, safer renewables like wind and solar. For as it's been said, when there's a major solar energy spill, it's called a nice day.