When it rains polluted stormwater often pours directly into rivers from dirty streets and parking lots, or into overburdened wastewater and drinking water treatment systems. This poses a health hazard for people, as well as fish and wildlife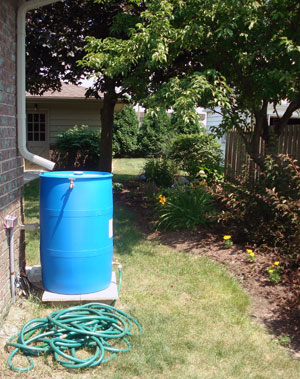 To reduce the effects of stormwater, American Rivers works on the local, state and federal levels to promote a range of green infrastructure solutions — from localized practices such as rain gardens, green roofs, and rain barrels, to larger scale efforts for comprehensive low-impact development.
Rain barrels, which attach to downspouts, catch rainwater which would otherwise flow into sewers and over dirty streets. Rain gardens are an attractive way to collect runoff and encourage groundwater recharge. These approaches work in concert with nature to collect and filter runoff, reduce flooding, and minimize pollution in our rivers and streams while helping to save money and energy too.
Developing on-the-ground stormwater programs
Over the past several years, American Rivers has been involved in several projects and programs to promote local stormwater management practices around the Great Lakes and in the mid-Atlantic.
In Wisconsin, we worked with the Johnson's Park neighborhood of Milwaukee to reduce the stormwater runoff coming from homes and driveways with our partner Milwaukee Riverkeeper. Together, we worked towards the installation of rain barrels, designing and building rain gardens, and disconnecting downspouts from the sewers.
In Michigan, we have been partnering with Rain Gardens of West Michigan and its creator Patricia Pennell to develop better educational and outreach material on rain gardens. Additionally, we offer support wherever we can to the project work that Patricia and Rain Gardens of West Michigan accomplish on the ground in communities.
In Ohio, we are currently working with the Rain Garden Initiative of Toledo – Lucas County to promote rain gardens and rain barrels. We have educated over 50,000 people on the benefits of rain gardens and rain barrels at various events, presentations, and workshops. We are in the process of developing a homeowner installation manual on rain gardens, which will soon be available on our website.
American Rivers has the goal of distributing 500 rain barrels over the course of two years in the Maumee River area. We have nearly completed our goal with four distribution events in 2008 and 2009. Highlights include the Mayor of Toledo, Carleton Finkbeiner purchasing a rain barrel for his home and allowing American Rivers to showcase a rain barrel in the lobby of his office. These events have inspired many of the local nurseries to keep rain barrels on hand for the demand that we have created.
In Pennsylvania, a recent rain barrel event occurred just outside of Philadelphia in the Darby Creek area of Delaware County. The project took an innovative approach, utilizing private funding, to engage community members and leaders in stormwater management solutions. American Rivers worked closely with local partners such as the Planning Department, Community Action Agency, the Conservation District, and a citizen-based watershed group throughout 2009. The project introduced the principles of stormwater management to the leadership of three urban municipalities, and then to community residents with the installation of rain barrels. The results are many proud rain barrel owners, a skilled volunteer leadership capable of expanding the number of installations, the beginnings of a stormwater management program with on-site solutions that serve municipal requirements and benefit Darby Creek, and a community poised to adopt full scale stormwater management practices to benefit their clean water needs.
Did You Know?
40% of the average homeowner's water use is outdoors. Rain barrel use reduces the stress on municipal water systems during the dry, summer months.
700 gallons of water runs off a 1,200 square foot roof after only one inch of rainfall. Using a rain barrel is an excellent way to conserve some of this water.
A quarter inch of runoff from an average roof will easily fill a rain barrel. If you have five storms a season, that equals 275 gallons of free water.
Rain absorbed within a rain garden will filter pollutants otherwise delivered to treatment plants or directly to streams. Studies report greater than 90% of copper, lead and zinc, 50% of nitrogen and 65% of phosphorus can be filtered in a rain garden.