Energy Development and Water
The nation's most drought-stressed areas also happen to be some of the prime areas for fracking.
According to a report by Ceres, Hydraulic Fracturing & Water Stress: Water Demand by the Numbers, 97 percent of the wells in Colorado and 96 percent of the wells in California were in dry areas.
New Mexico, Utah, Wyoming, and Texas also had wells in water-stressed areas. Texas has the highest number of wells at close to 18,000.  More than 8,000 are in areas where more than 80 percent of the water is allocated and about 6,000 wells are in areas where 40 to 80 percent of the water is allocated.
About half of the hydraulically fractured wells drilled in North America were in areas experiencing some degree of water stress and over 55 percent were drilled in drought-ridden areas since 2011.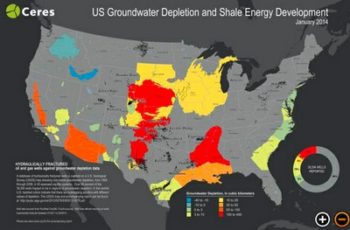 It's no secret that fracking uses lots of water, about five to six million gallons per well. But these areas also are experiencing population growth and the majority of the water resources are already allocated.
The Ceres report also notes specific service providers and their water use. The top three providers, Halliburton, Schlumberger, and Baker Hughes, are responsible for using about half the water for fracking nationwide. However, Chesapeake Energy used the most water and the majority of its wells operate in areas of medium water stress.
According to the Ceres report, citing FracFocus data, "just over 97 billion gallons of water were used between January 2011 and May 2013 for hydraulic fracturing operations, equivalent to the annual water needs of over 55 cities with populations of approximately 50,000 each." To give a little more perspective, that equals the annual water supply for 2.75 million people. Let that sit for a minute.
Much of the shale development depends on groundwater as it is not as regulated as surface water resources. Groundwater helps recharge surface waters during times of low flow. Fracking impacts more than just water supply. As more water is used for fracking, less is also available for maintaining ecological baselines.
The Ceres report contains much more information about water use in the industry including suggestions for regulatory practices, improving operational methods, and more industry disclosure.