2018 was another winning year for National River Cleanup®! Over 57,228 volunteers removed 2 million pounds of trash from nearly 3,166 cleanup sites. Thank you to our dedicated organizers and their volunteers for making this year another success for rivers! We would like to recognize the following Cleanup Champions in the following categories:
Most river miles cleaned
Most pounds of trash collected
Most volunteers mobilized
Tiny but Mighty
Cleanup to Watch
There are two tiers of recognition so that cleanups of all sizes can get the acknowledgement they deserve – events with ten or more sites are classified as large scale cleanups whereas events with fewer than 10 cleanup sites are classified as mid-sized. There's also a "Tiny But Mighty" category to shine a light on individual and small group cleanups who pack a big punch, and a Cleanup to Watch category to provide a stage for new cleanup groups who have demonstrated impressive results, multiple events and/or extensive community partnerships. Help us congratulate our Cleanup Champions and organizers who have made National River Cleanup another huge success in 2018!
Most River Miles Cleaned
Most Pounds of Trash Collected
Large Cleanup:
Mid-sized Cleanup: Amigos Bravos' 12th Annual Taos River and Lands Cleanup Day – 37,760 pounds of trash

ORSANCO's Ohio River Sweep | Photo by Lisa Cochran
Most Volunteers Mobilized
Tiny but Mighty
Uncompahgre Watershed Partnership's Love Your Gorge Cleanup recruited 23 volunteers to remove 6,000 pounds of trash! This was their first annual cleanup and they hope to continue for many years to come.
Buffalo National River Partners' Cleanup was hosted on National Public Lands Day in which 6 volunteers removed 2,000 pounds of trash.
Cleanups to Watch
Natural Restorations which is co-founded and led by Nicole and Justin Corey hosted 13 cleanups in 2018 which engaged 1,173 volunteers and removed 22,801 pounds of trash from rivers and creeks in Arizona. This unique group cleans up our public lands AND removes graffiti while Nicole's father captures stellar landscape and volunteer photos!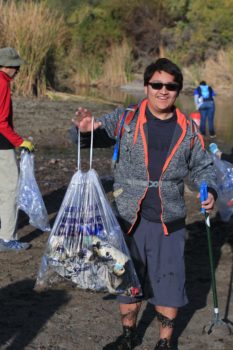 The Boardman River Clean Sweep (BRCS) was founded by Norman Fred after witnessing trash along a paddle trip. Feeling empowered, he started BRCS to make a difference for rivers. From Traverse City, Michigan, the BRCS team hosts and/or participates in 17 cleanups each year. BCRS's volunteers are experienced paddlers and typically conduct their cleanups by boat. One of their annual cleanups is held on the Betsie River which has several salmon and steelhead trout fishing areas and accumulates hundreds of pounds of dangerous fishing debris such as treble hooks, line and lead sinkers. This debris usually ends up in the trees after a flooding event and threatens native wildlife. Thank you BCRS for your hard work keeping our northwest Michigan rivers clean and wild!
Honorable Mentions
In addition to these top ten groups, we'd like to shine the light on a few more who didn't secure the top spot, but came very close. These Honorable Mentions are groups who ranked in the top three for the categories above (excluding Cleanup to Watch). Their accomplishments are quite impressive, and they may be jockeying for a top spot next year. Like with all the groups that register with National River Cleanup, American Rivers is tremendously grateful for the work these groups and their volunteers do each year to make our rivers safer, cleaner and healthier.
Most River Miles Cleaned
Most Pounds of Trash Collected
Most Volunteers Mobilized
Tiny but Mighty
Ira Gershenhorn's Little Red Lighthouse Cleanup and Riverkeeper Sweep – 8 volunteers removed 1,660 pounds of trash along 2 miles of the Hudson River.
Chattahoochee Riverkeeper's Buzzard 2-day Paddle Cleanup – 22 volunteers removed 2,850 pounds of trash.
Oconee River Resource Conservation and Development Council's Town Creek Highway 44 Cleanup – Greensboro Georgia – 34 volunteers removed 4,291 pounds of trash along 7 miles of Town Creek
Thank you to all our amazing cleanup organizers and volunteers who made 2018 an amazing year for our waterways!