River protections now making federal land management work for rivers
Rivers. They refresh the land and the creatures and plants that inhabit it, guide our explorations, render stories of nature and of human history, connect communities.
In a nation of highly developed working rivers subjected to impoundments, diversions, streambank alterations, and other damage or neglect, a vigorous effort to protect remaining intact, healthy rivers and stream corridors is essential and always timely.
This is the vision behind the National Wild and Scenic Rivers Act (1968), which elegantly declares it to be the policy of the United States…
…that certain selected rivers of the Nation which, with their immediate environments, possess outstandingly remarkable scenic, recreational, geologic, fish and wildlife, historic cultural, or other similar values, shall be preserved in free-flowing condition, and that they and their immediate environments shall be protected for the benefit and enjoyment of present and future generations…
The best-known and most enduring method of protecting rivers under this historic law is the designation of rivers into the National Wild and Scenic Rivers System—each designation approved by a separate Act of Congress.
We can also secure more immediate protections for key rivers under other, relatively simpler, administrative measures.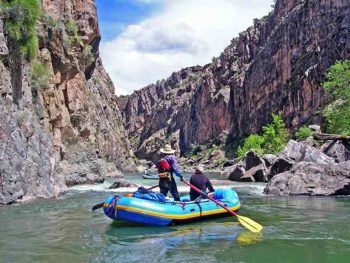 The Wild and Scenic Rivers Act requires each federal land management agency—overseeing national forests, national parks, and other public lands—to periodically study rivers in their respective bailiwicks for possible wild and scenic protection.
These river studies typically are undertaken during revision of federal land management plans that guide the daily work of those public landscapes. The review analyzes what the Act calls a river's "eligibility" and "suitability" for wild & scenic designation. For rivers so identified, the agency is obliged to provide deliberate and defined interim protection for candidate rivers.
That is where river-protection activists have a key opportunity to influence practical policy and actions in behalf of high-value, healthy local rivers. This is your cue for action.
Resources
Intermountain states and their rivers
In intermountain west states, the bulk of federal lands that include rivers with potential for wild & scenic protection are managed by the U.S. Forest Service or by the Bureau of Land Management (BLM). In response to federal law, both those agencies completed their first generation of comprehensive management plans—for individual national forests and for individual BLM field offices—in the 1980s and 1990s, with congressional instruction to update those plans every 15-20 years. Nearly all plans therefore have either been revised recently or are about to be.
Many national forests and BLM field offices in the intermountain region are currently revising their plans—and studying rivers—right now! These pending and upcoming plan revisions provide key opportunities for river-protection advocates to influence the future management and protection of high-value rivers.
See the status of your local land plans »
The plan is the thing
American Rivers has assembled some guidance and some tools to help you engage in influencing these key and timely plans, securing protection for the values and streamflows of high-value rivers near you.
A federal agency's land management plan guides all decisions and actions undertaken during the life of the plan (15-20 years). Getting important river details into a new or revised plan is thus essential to securing, monitoring, and enforcing administrative protection for rivers.
Learn how a federal land management plan is made and how you can influence it »
Learn the jargon, tools and policies for your success »
Background
Wild and Scenic Rivers: an American Legacy celebrates the National Wild and Scenic Rivers System with 160 stunning photographs and a lively history involving citizen activists, scientists, dedicated public officials, and enlightened political leaders. To commemorate the 50th anniversary of the National Wild and Scenic Rivers Act, award-winning author and photographer Tim Palmer illuminates the values of this irreplaceable system of free-flowing streams, probes its problems, and addresses its future.
More: http://osupress.oregonstate.edu/book/wild-and-scenic-rivers