Conewango Creek, Pennsylvania
In 2009 and 2014, Carters Dam and Hospital Dam were removed from Conewango Creek just upstream from its confluence with the Allegheny River in Pennsylvania. For more than 100 years, Conewango Creek was fragmented— restricting fish and wildlife habitat access and impacting river and ecosystem health. Since the removal of these barriers, the river and surrounding ecosystems are functioning in a healthier, more natural way.
The Story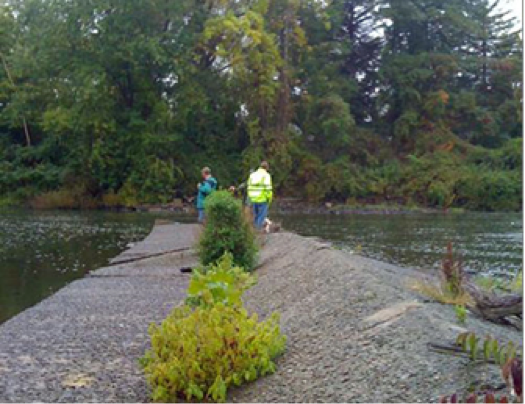 Originating in South Dayton, New York, Conewango Creek flows south over the Pennsylvania border and into the Allegheny River, a major tributary of the Ohio River. It flows through one of the most biologically rich areas for river resident species in the Eastern United States, hosting at least 17 species of freshwater mussels and many species of resident and migratory fish. In 1866, Carters Dam was constructed just upstream from Conewango Creek's confluence with the Allegheny River to provide power for a local mill. Thirty-four years later, Hospital Dam was constructed just three miles upstream from Carters Dam to supply water to Warren State Hospital. The previously free-flowing Conewango had become fragmented, reducing viable habitat for fish and mussels, creating public safety hazards and impairing river and ecosystem health.
When both dams were abandoned in the 20th century, Conewango became a priority river for restoration. American Rivers funded a freshwater mussel survey to determine the impacts that the dams were having on mussels. Seventeen different mussel species, including the endangered northern riffleshell (Epioblasma torulosa rangiana) and clubshell (Pleurobema clava), were found in the stream, although in far less abundant numbers than before the dams were constructed. Northern riffleshell and clubshell mussels were once abundant in Conewango Creek; practitioners hoped that restoration of the stream would allow these species to thrive once again.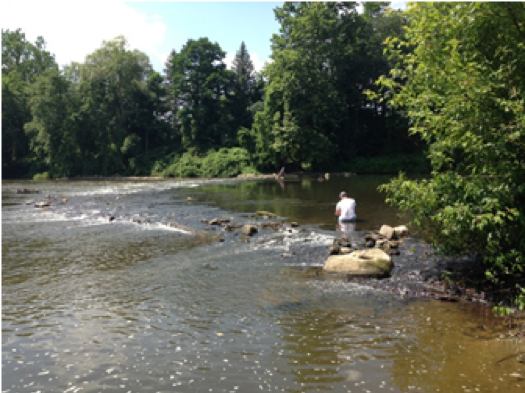 With the help of the Pennsylvania Department of Environmental Protection, Carters Dam was removed in 2009. In 2011, American Rivers partnered with the Conewango Creek Watershed Association, the Pennsylvania Department of Environmental Protection and the Pennsylvania Fish and Boat Commission to develop plans for removing Hospital Dam, which was removed in August 2014. Remnants of an unnamed dam that were discovered upstream from Hospital Dam were also removed.
Dam Removal Benefits
30 miles of habitat in Conewango Creek and its tributaries were reconnected and made accessible to aquatic organisms
Over 400 northern riffleshell and clubshell mussels were stocked upstream from the City of Warren to help populations reestablish themselves
After restoration, Conewango was honored as the 2015 Pennsylvania River of the Year by the Pennsylvania Department of Conservation and Natural Resources
Rocks from the dams were redistributed throughout the river bed, and the logs were given to local woodworkers who turned them into furniture and art
The river banks were re-seeded and re-graded as the river returned to its historical channel
The removal of the Conewango Creek dams has ensured access to upstream habitat for migratory and resident fish and given freshwater mussels a chance to flourish once again. The now free-flowing Conewango Creek has been reconnected with the Allegheny River for the first time since the dams were constructed.
FOR MORE INFORMATION:
Lisa Hollingsworth-Segedy | American Rivers | lhollingsworth-segedy@americanrivers.org