Gravel Run, Maryland
In September 2016, Centreville Dam in Maryland was removed to increase habitat connectivity and passage for migratory fish. Upon removal, fish returned to habitat upstream from the dam site, and the ecosystem surrounding the former dam rebounded.
The Story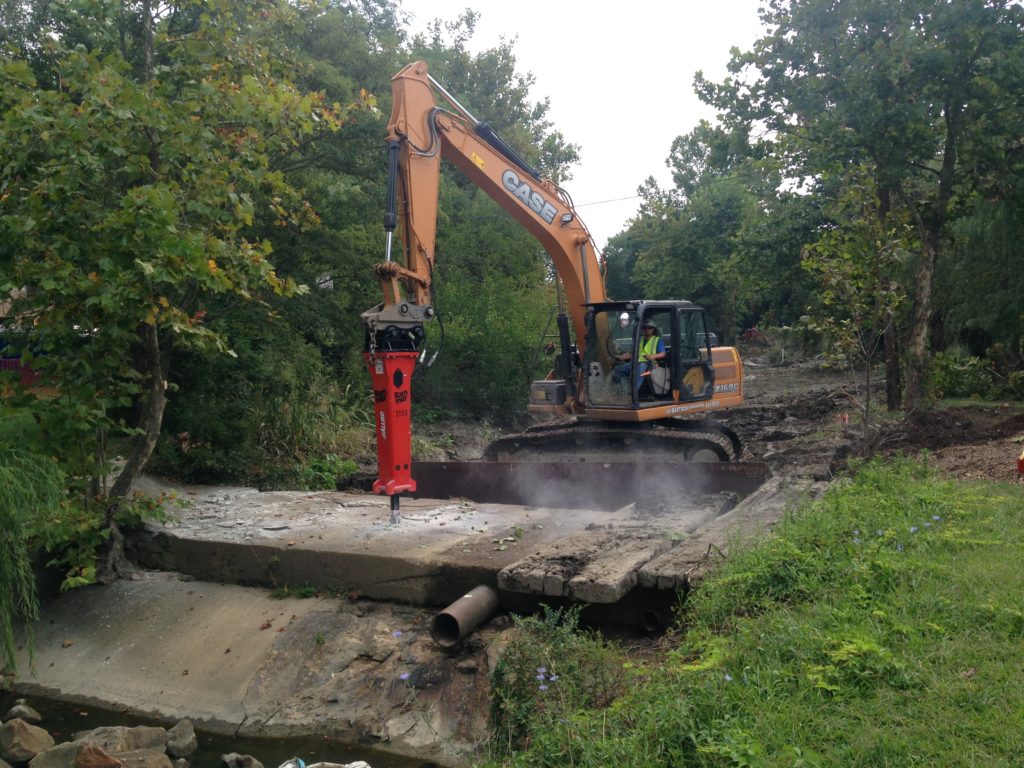 Centreville Dam was built in 1933 to supply electricity for Centreville, Maryland. By the late 1900s, it was decommissioned and became outdated and obsolete. Like many other dams that no longer serve their original purpose, the structure had become a safety risk to the community and was degrading the health of the stream and the surrounding ecosystem. In the years before the removal, residents of Centreville had become particularly concerned about flood risk to municipal buildings upstream from the dam. For example, the nearby police station had been evacuated on many occasions and sustained damage after multiple flooding events. Meanwhile, years of nutrient and sediment buildup behind the dam had completely altered stream hydrology and morphology and destroyed aquatic habitat at the dam site.
Centreville Dam was on Gravel Run, a small tributary of the Corsica River, located on the Eastern Shore of Chesapeake Bay. Gravel Run provides important habitat to many species of migratory and resident fish, including alewife, blueback herring, American eel, and yellow and white perch. Fish habitat had not only been degraded to a large extent at this site, but 13 miles of potential spawning habitat were completely inaccessible upstream from the dam. When the Chesapeake Fish Passage Prioritization Tool listed Centreville Dam as a top priority for removal to benefit migratory fish species, a partnership was formed between American Rivers, the town of Centreville, the Maryland Department of Natural Resources, U.S. Fish and Wildlife Service and the National Oceanic and Atmospheric Administration's Restoration Center to remove Centreville Dam.
In August 2015, after obtaining funding, completing designs and receiving permits, a construction crew began to chip away at the concrete structure. Just one month later, Centreville Dam was only a memory.
Dam Removal Benefits
13 miles of upstream habitat reconnected for migratory fish and other aquatic life
Shrubs and trees planted to reduce erosion and provide habitat to wildlife
Risk of localized flooding reduced
Safety risk to local community removed
Natural river processes re-established and ecological health improved
Morphology and hydrology of the stream restored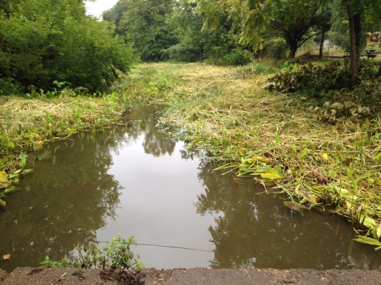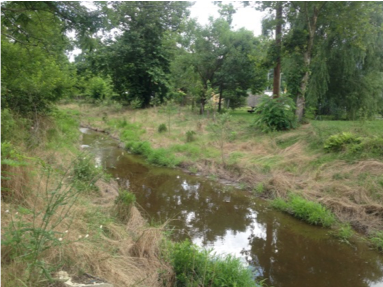 Upstream of Centreville Dam. Before removal (left), stagnant water conditions and low dissolved oxygen levels of the river created a more swamp-like ecosystem than a free-flowing river. These conditions were not suitable for many aquatic species that relied on river habitat. After removal (right), the vegetation present prior to removal was replaced with native grasses along the banks, and the water quality became habitable to many aquatic organisms found within the river system.
The removal of Centreville Dam helped American Rivers and its partners move one step closer to a future of uninhibited fish passage in the Chesapeake Bay region.
FOR MORE INFORMATION:
Serena McClain | American Rivers | smcclain@americanrivers.org