We love this place and it has worked its way deep into our bones. We don't just live in the Pacific Northwest. We are the Pacific Northwest. We are representatives and Indigenous Peoples of the Lower Columbia River, the Lower Snake River, and the Upper Snake River.
We believe now, more than ever, in the wake of the unprecedented uncertainty and loss that has gripped our nation, we need to tap into this spirit to build the Northwest of the future. One that respects and makes good on promises made to Tribal Nations in Treaty Rights, delivers clean water, renewable energy, efficient transportation, a thriving economy and bountiful agriculture—and recovers healthy, robust populations of wild salmon and orcas.
We are here to invoke and honor the spirit of the Pacific Northwest, one that is focused on values, community, and common ground. Because it turns out when we talk to one another, we have a whole lot more in common than not.
These are our stories. Together, we are the beating heart of this place and inextricably linked. Together, we can do anything. Together, we are Northwest strong.
—We honor the homelands of Indigenous Peoples who have lived in this landscape since time immemorial, stretching from the Pacific to the Tetons and encompassing the mighty Columbia-Snake River Basin. We pay our respects to their elders past and present.
—
Together, we're taking steps toward a more just, equitable and prosperous future for all of us. It's not always going to be easy, but we're used to that and we dare say, we welcome it. We're Northwesterners and Indigenous Peoples of the Northwest, we know how to roll up our sleeves and work together toward a better tomorrow.
We believe that Northwesterners and Indigneous peoples of the Northwest yearn to put their muscles and minds to work on something big, and come together around a common vision. Here, in the mighty Columbia-Snake River Basin, a place that used to welcome the greatest salmon runs on Mother Earth and has provided for the people of these lands since time immemorial, we have hope and opportunity.
We call on our elected leaders, on our neighbors up and downstream, to join us in ushering in a new era of optimism anchored in action for our rivers, salmon and communities—to remind the nation and the world that together, we are Northwest strong.
Please join us.
Lower Columbia Allies
Liz Hamilton, Amy Grondin + Barrett Ames. Liz Hamilton is the executive director of Northwest Sportfishing Industry Association, Amy Grondin is co-owner of Duna Fisheries and a commercial fisherman working off the Washington Coast, and Barrett Ames is a guide at Fish The Swing, operating on the Oregon North Coast and the Deschutes River. Photographed by Corey Arnold.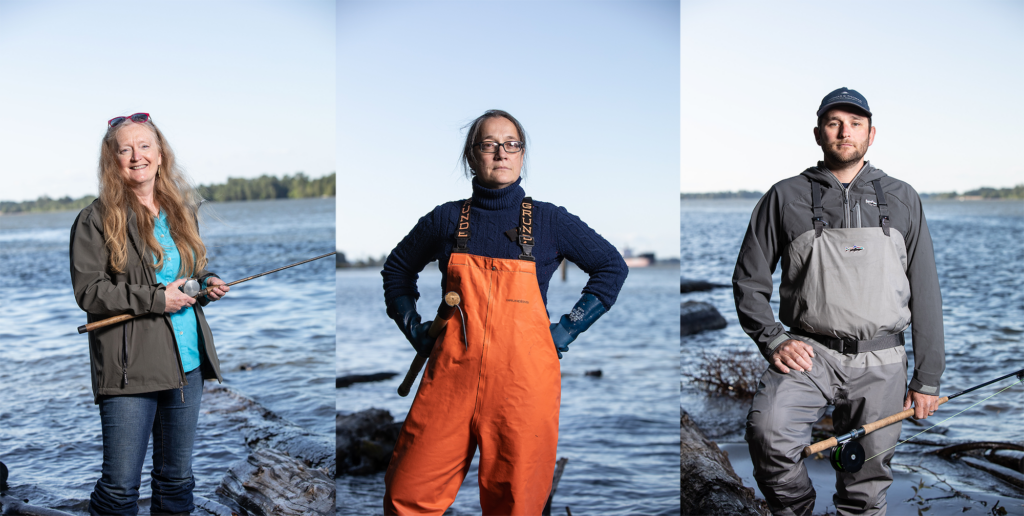 Lower Snake River Allies
Lucii Simpson, Julian Matthews + Mark Deming. Lucii Simpson is a Nimiipuu (Nez Perce) Tribal elder and a direct descendent of Chief Joseph. Julian Matthews is an enrolled Nimiipuu (Nez Perce) Tribal member co-founder of Nimiipuu Protecting the Environment, a nonprofit organization working to educate and protect usual and accustomed Treaty areas; educate tribal members and youth on current environmental issues; develop leaders in the environmental area for the next generation; promote activism within our tribes to empower tribal members on effecting change. Mark Deming is the marketing director for NRS, the largest river-sports supply company in the world, based in Moscow, Idaho. Photographed by Ben Herndon.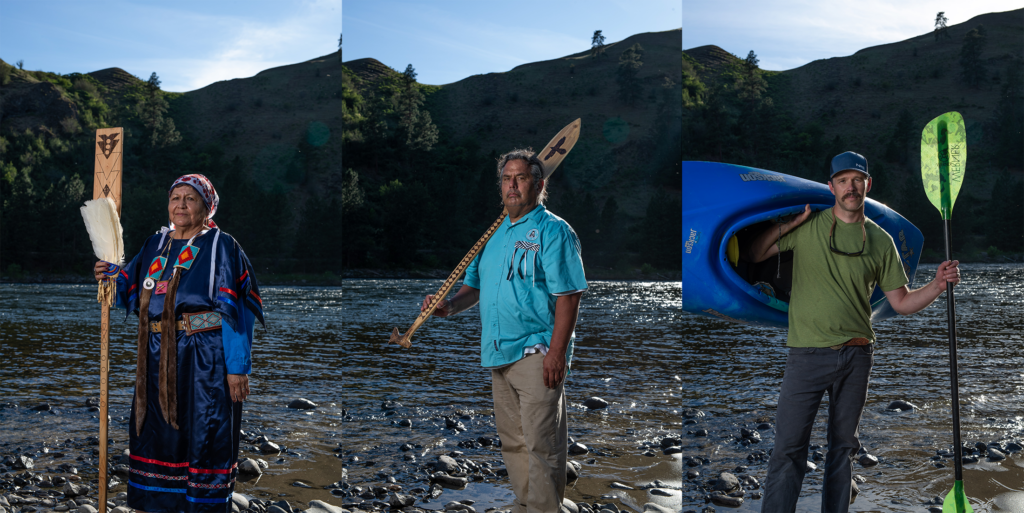 Upper Snake River Allies
Sammy and Jessica Matsaw + Anna Lindstedt. Sammy and Jessica are from the Shoshone Bannock Tribe and co-founders of River Newe, a nonprofit organization working to increase representation and create spaces of equity through learning experiences on homelands with Shoshone-Bannocks, Indigenous, and minoritized communities on and off river. Anna Lindstedt is the Development Director for the non-profit Friends of the Teton River and is a Fall River Rural Electric Cooperative Board Member. Photographed by Becca Skinner.