Since the Upper St Anthony Falls Lock was ordered closed in 2015, the Minneapolis-St Paul community has been considering the future of the Mississippi River in the Gorge – the stretch of river between the falls and its confluence with the Minnesota River about 10 miles downstream. The Mississippi River Gorge was once a long stretch of whitewater, but over the last century it has been dammed and pooled for hydropower and navigation. Today, the Army Corps of Engineers owns the two dams in the Gorge. With relatively little barge traffic and high maintenance costs, the Army Corps is evaluating the fate of the infrastructure. Without navigation and the associated investments from the Army Corps, the river through the Gorge will change.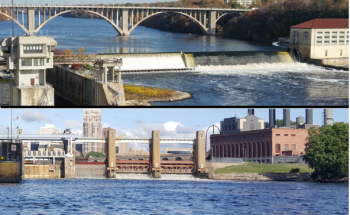 In response the Army Corps' evaluation, American Rivers hosted a public meeting in summer 2017 with the neighborhood Longfellow Community Council about the future of the Mississippi River in the Twin Cities. We were interested in hearing what the community thought about removing the dams to restore the Gorge.
The meeting was very well attended, with more than 100 people filling the pews at St. Peder's Church in Minneapolis. To start the meeting, experts from the National Park Service, Minnesota Department of Natural Resources, and Army Corps of Engineers talked about the natural history of the Mississippi Gorge and the Corps' process for determining the fate of the infrastructure. American Rivers' Brian Graber and Olivia Dorothy talked about the multiple benefits of dam removal and how removing the dams could restore the Mississippi River in the Twin Cities.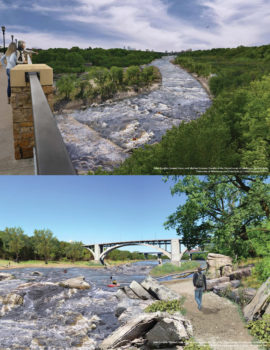 Following the presentations, critics of the proposal were vocal. Rowing club members lamented the loss of calm pools should the dams be removed. Others were concerned about the loss of hydropower, a renewable energy source for the community, and the lack of coordination thus far with the Native American community. However, after all the written comments were reviewed, they showed that about twice as many people expressed support for river restoration as opposed it. While the critics have been vocal in expressing their significant concerns about restoring the river, it seems the majority of participants actually support the restoration concept.
And the comments and conversations generated several questions that American Rivers and partners plan to explore, including:
Identifying other locations for competitive rowing activities.
Replacing lost hydropower with another renewable energy source.
Clarifying the environmental benefits of dam removal in the gorge.
Developing plans to expand/improve recreational access.
Exploring the needs of minority and low-income people in planning.
Identifying any infrastructure that might be vulnerable to changing river discharge.
Moving forward, American Rivers will work with partners to explore these six areas of interest to better understand and articulate the restoration option for the Mississippi River in Minneapolis-St. Paul. In the meanwhile, the Army Corps has stalled their study of whether to retire the locks and dams as they await funding from the federal budget. We are hoping that study resumes in the next year.
To read the full report from the meeting and summer survey, visit https://drive.google.com/drive/folders/1yvh37LdfRtleKcdxD7zA0itR3V7ayyYV?usp=sharing