Almost one year ago, I conceived the idea to run across South Carolina, all in the name of river and freshwater resource conservation. I reached out to American Rivers early in the process and they were excited to partner with me. We named the project Running For Rivers, and later came to an agreement with RES, LLC to be the presenting sponsor. I am a biologist and ultra marathon runner, and have been working and running in South Carolina for many years. For work, I focus on the conservation and management of freshwater, estuarine, and marine resources. In my running life, I love to get out in the wilderness and try to run next to rivers and streams; it brings me peace and great joy to run next to flowing water. This project truly brought together two of my greatest passions.
Over the year of route planning and logistics, it was clear that the route was going to be close to 300 miles. I made the decision to round it up to an even 300 miles. I then decided to attempt to tackle the 300-mile journey in 3 days (72 hours). Very few people have ever accomplished that distance in that time, but it is always important to dream big and go after goals that may seem "impossible." Additionally, "300 miles in 3 days" had a nice ring to it.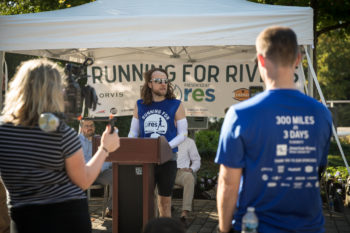 On Thursday Nov. 2 at 10:07 in the morning, I began running toward the ocean from the NC/SC Border (Eastern Continental Divide), near the Middle Saluda River. After about 8 miles, it was apparent to me that something was wrong. I had trained for 4-6 months, but I was feeling fatigued and my quads were already hurting with 292 miles left. At about mile 10, I left a quiet gravel road and stepped onto a very busy 2-lane secondary highway where vehicles were flying by me, barely giving me an inch. Much of the next 2 days were characterized by few sidewalks, lots of traffic at high speeds, and generally just feeling "off." The constant onslaught of high-speed traffic (often with distracted drivers) was much more draining than I had anticipated.
Ultimately, I pushed hard and grinded through some rough miles and a lot of pain, all while passing near or over the South Saluda, Reedy, Little, Bush, Broad, Congaree, and Saluda Rivers. I made it 150 miles to Columbia, SC in about 53 hours. After very tough circumstances and heavy heart, I made the decision to stop. The 150 miles would have been impossible without my amazing crew and pacers, which included my fiancé Laura and her cousin Mel, my endurance logistics masters Lauton and Kenny, ultra-running maniacs Justin and Andres, and communications director Dan. I would not have been able to make it more than 20 or 30 miles without the crew; they were truly amazing.
Additionally, the adventure would been extremely tough without all of the support and generosity from RES, American Rivers, Badwater, Orvis, NipEAZE, Crevar Chiropractic, and all of our other sponsors.
I guess we will call this Running For Rivers Part 1. Stay tuned for Part 2…
Learn more about Keith's adventure at www.RunningforRivers.com