Saturday morning started a bit chilly on October 21, but with a bright sun that shined down on 26 volunteers who showed up to clean the Waccamaw River. This was a blessing as this was the rescheduled annual South Carolina River Sweep clean-up that was previously moved due to Hurricane Irma. We gathered at Peachtree Landing in Myrtle Beach, one of many access points on the Waccamaw River Blue Trail, to clean the landing and then loaded into kayaks and on to paddle boards to head out to paddle 4 miles to Enterprise Landing.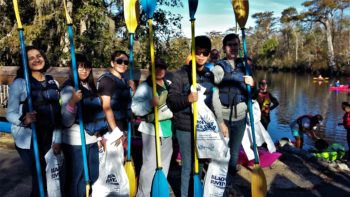 Led by hosts Gator Bait Adventure tours, a local kayak outfitter owned by Chris and Jane Ochsenbein, we started our trek down river. A rainbow of kayaks spanned the width of the river, combing the black water for trash. Our group included teenage international exchange students, laughing college students, families, local river lovers, and even some visitors from Texas.
It was a pleasant surprise to find very little trash in the water. It became a celebration to find even one can or plastic bag. Luckily, the day was beautiful and the river was as smooth as glass- good news for our first-time kayakers. We found substantially more trash at each landing with a common item being cigarette butts- just because they are small doesn't mean they aren't litter. It is worth the extra effort to make sure all trash and recycling ends up where it belongs- travel with a trash bag, walk the extra steps to a trash can, and make sure that you pack out whatever you pack in on a boat day.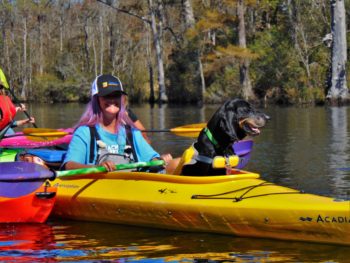 Thank you to our 26 volunteers and awesome hosts. American Rivers is thrilled to partner with such great people who always leave our landings and water cleaner than we started. We can't wait to see you on the river next time!