As the days grow shorter and the nights get colder, I've been reflecting on some of the standout moments I've had in 2016. One of my highlights is from August, when I had the honor of coordinating a tour of the North Fork Nooksack River for Congresswoman Suzan DelBene (WA-01) and several other organizations and businesses involved in conservation and outdoor recreation.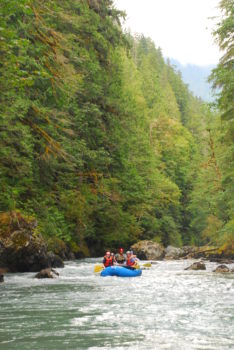 The tour consisted of a short hike along the Horseshoe Bend Trail, which parallels the North Fork Nooksack River, to learn about salmon and other native fish that inhabit the river. We enjoyed lunch at the newly renovated Shuksan Picnic Area on the banks of the river which provided a perfect backdrop for a robust discussion about the connection between conservation, outdoor recreation, and strong local economies. We then visited the Upper Horseshoe Bend Whitewater Access Site, a brand new site and an early implementation success of the Upper Nooksack River Recreation Plan. Both the picnic area and whitewater access sites are exceptional examples of National Scenic Byway infrastructure funding at work. The tour concluded with whitewater rafting the Nooksack with Wild and Scenic River Tours.
The Nooksack River connects the North Cascades National Park to the Salish Sea, a corridor of life for the regional ecosystem. It is one of two rivers that flow into Puget Sound that supports all five species of Pacific salmon, steelhead, and bull trout. It is also home to many other wildlife species, including bald eagles, black bears, cougars and elk. The North, Middle and South Forks of the Nooksack are also the lifeblood for local communities and farms, bringing jobs, economic benefits and tourism income from visitors drawn to the river's recreational opportunities. Protecting the river protects this highway of life – both for fish and wildlife and the local economy.
American Rivers is working to protect about 110 miles of the upper Nooksack River system as a Wild and Scenic River. This designation keeps the river just like it is – but it lets others know that something special is here and draws visitor attention to the entire North Cascades region.  It gives people another reason to visit, enjoy and stay.
Take a look at the slideshow of the August 10 tour of the North Fork Nooksack with Congresswoman DelBene. The Nooksack River truly is a magnificent place.