In August, a member of the Navajo Nation Council submitted legislation that could authorize the construction of the Grand Canyon Escalade. The Escalade is a two million square foot, industrial-scale construction project on the east rim of the canyon that includes a tram to the bottom of the Grand Canyon at the confluence of the Colorado and Little Colorado rivers. Picture it: noise, trash, pollution, and 10,000 people a day on the tram and walkways. If the Escalade project were to move forward, this national treasure would be forever scarred.
Over 100,000 people have voiced their opposition to this shortsighted proposal, amplifying our message of protecting the Grand Canyon.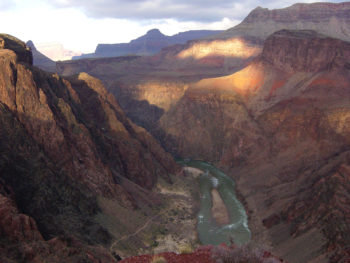 On October 10, the Navajo Nation Law & Order Committee unanimously voiced their opposition to the Escalade proposal. The Navajo Historic Preservation Office also issued a position statement strongly opposing the Escalade development.
This is great news but it is just the beginning.
Here's what happens next
The legislation will continue to work its way through the Navajo Nation Council, much like a bill might proceed in the United States Congress. The bill will go through discussions in three additional committees over the coming weeks before it is sent to the floor of the Navajo Nation Council for a full vote. Two-thirds majority is needed to override the president of the Navajo Nation, Russell Begaye, who said he would veto this proposal.
While we wait for the legislation to make its way through the Council, there are members of the Navajo Nation, most notably the local Navajo families comprising Save the Confluence, working to ensure the project never sees the light of day. They must hear our voices of support. There's still time to help.
Here's what you can do:
Thank you for your help protecting this national treasure.