There's just something about the Smith River.
Other Montana rivers offer superior trout fishing, clearer and colder water, and flow through more pristine landscapes. But no river holds a bigger place in the heart of Montanans than this sparkling little gem that flows for 60 miles through a spectacular limestone canyon between the Little Belt and Big Belt Mountains.
For me, protecting the Smith River is deeply personal. For it was here, on the canyon rim overlooking the confluence of Tenderfoot Creek, where I first met the woman who would become my wife. That was more than twenty years ago.
So when I first heard that a tiny Canadian mining company, Tintina Resources, wanted to build a copper mine in the Smith's headwaters, I was viscerally shaken.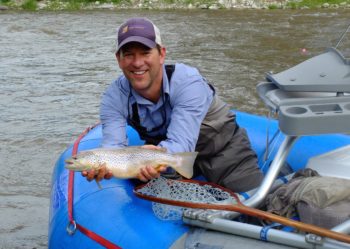 Not only would Tintina's copper mine be built beneath and adjacent to Sheep Creek, the most important wild trout spawning tributary in the entire Smith River system, but the copper deposit is located in a massive sulfide ore body. That's a huge concern because when sulfide ore is exposed to air and water, it invariably leads to acid mine drainage. And acid mine drainage kills fish and other aquatic organisms, as exemplified by the recent Gold King disaster on southwest Colorado's Animas River.
When my American Rivers colleague, Mike Fiebig, and I took a field tour of Tintina's proposed copper mine with the company's CEO and Vice-President of Exploration last fall, they assured us that state-of-the-art technology would be used to ensure the mine would have zero impact on the Smith River's water quality and wild trout fishery. In fact, they went so far as to say it actually would improve stream flows for trout. It all sounded so rosy.
But when we hired a team of experts to review Tintina's permit application after they submitted it to the Montana Department of Environmental Quality last December, we learned that the proposed copper mine poses serious risks that simply can't be mitigated, much less eliminated. Moreover, the permit application lacked basic information on fisheries, geochemistry, and groundwater-surface water interactions, without which it is impossible to accurately gauge the mine's likely impacts.
Then, a few months ago, an avid angler from Yakima, Washington who has spent 40 years in the mining industry called me on the phone to warn me that the proposed copper mine is virtually certain to contaminate the Smith River and ruin its wild trout fishery. His name is Tyler Shepherd, and we'll publish his guest blog on the Smith River later this month. Suffice it to say, it's quite illuminating.
Whether you've come to know the Smith River as intimately as I have, or you simply want to keep one of Montana's most cherished rivers clean and healthy for future generations to enjoy, I urge you to take action on its behalf. The stakes couldn't be higher.