Today's post is a guest blog from Roberta Salazar, Executive Director of Rivers and Birds. Based in Taos, New Mexico, Rivers and Birds provides experiential education and promotes conservation advocacy of our public lands to inspire Earth stewardship. Rivers and Birds is a grant recipient of the Connecting Communities to Rivers Grant Program. 
Ask any visitor to Taos what feature impacted them most upon their arrival and you will likely hear about their first sight of the Rio Grande Gorge as they topped the hill nearing Taos. This dramatic geologic incision in the earth is the vessel that contains the upper Rio Grande River, a 74-mile stretch of pristine river and one of America's first Wild and Scenic Rivers designated in 1968.
Unfortunately many Taos natives, including those from Taos Pueblo and local Hispanic villages, don't often get the opportunity to experience the beauty of the Rio Grande. However, in May, Rivers & Birds collaborated with the National Outdoor Industry to introduce kids to this extraordinary river as part of the nation-wide celebration of the 100th anniversary of America's National Parks and Monuments. With volunteer community members, we organized an effort to take economically-underserved fourth-graders into Rio Grande del Norte National Monument and the Rio Grande Wild and Scenic River for two days of adventure.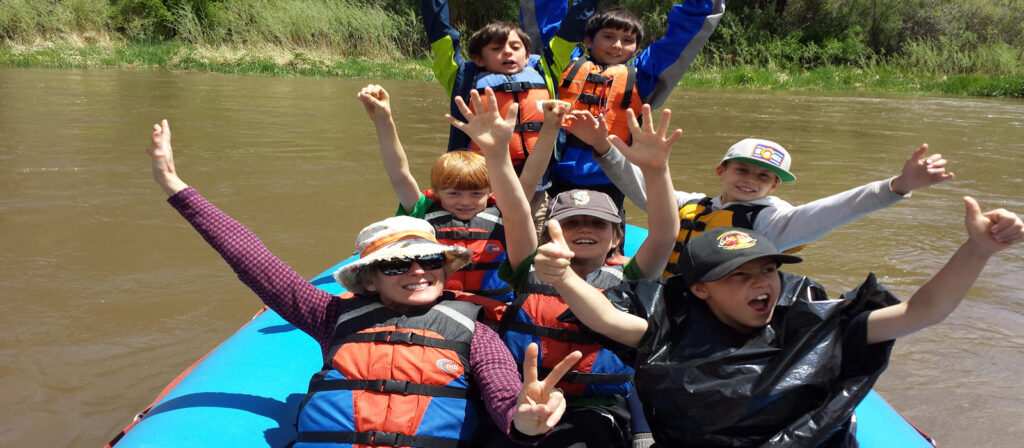 May can be hot in Taos. Long hikes over rugged, dark volcanic rocks can be too much for people to enjoy the Wild and Scenic River area, but not for fourth-grade students!  The students hiked from the trailhead 800 feet down to the edge of the river, where the roar and spray from a class VI rapid was impressive, and refreshing.  Though the hikes were challenging, the students and parents were energized. One teacher exclaimed, "My kids are so happy about their hike. They have so much energy. It's the adults that get worn out."
Many students and parents had never visited the National Monument and Wild Rivers Recreation Area. The physical adventure into the volcanic gorge with its rushing whitewater, prehistoric petroglyphs, and wildlife was thrilling.  Students said they couldn't wait to return with their families. One fourth-grader, Zachary, said, "I want to come back with my family to play."  Jasmine another student exclaimed, "I'm going to bring my dad here. We will go fishing!" The parent chaperones were also enthusiastic.  Brian MacCormack, an Iraq war veteran, and parent confided, "I wasn't familiar with the Wild Rivers area.  As a veteran, I have struggled to heal.  What I have found most helpful for bringing a sense of peace back into my life is getting out in nature like this. I am going to bring my children back here for a camp out this summer."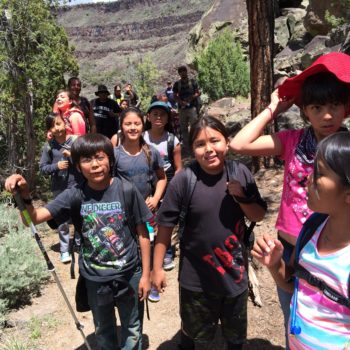 In addition to hiking through the National Monument and experiencing the river from the banks, the kids were also able to float the river. Cisco Guevara, owner of Los Rios Rivers Runners and a native New Mexican, provided the school raft trips.  He sums up the outdoor celebration: "Kids being out in nature is great because of the connection they get, not only to the natural environment but to themselves.  We are all a part of the natural environment."
The Rio Grande is the ribbon that weaves together the various cultures of our diverse community from north to south – a deep connection that goes back hundreds of years. Rivers & Birds engineered this effort with strong community support so that diverse public school students with their families could experience Rio Grande del Norte National Monument and Wild and Scenic River.