I just returned from a fantastic trip with OARS Dories down Idaho's Wild and Scenic Main Salmon River. OARS, along with NRS and other partners, are teaming up with American Rivers to celebrate the upcoming 50th anniversary of the Wild and Scenic Rivers Act. This trip was part of our effort to build momentum and collect stories, photos and video for the campaign.
It was a dory trip – the first for OARS in Idaho in roughly 14 years – and a personal first for me. Ever since reading Kevin Fedarko's The Emerald Mile, I've wanted to experience a dory. Describing this beautiful wooden boat in the Grand Canyon Kevin writes:
"Unlike the rafts and the motor rigs or the generations of wooden boats that had proceeded her, she didn't plow piggishly through the waves, but instead seemed to dance over them. As she planed across the surface of the river, breaking the water into a series of interlocked, V-shaped ripples, she achieved a bewitching visual alchemy, almost if she were suspended partly on the surface of the river and – through some ineffable trick of her rocker, her rake, and the magic of her radiance – suspended partly on the air itself."
One of my most vivid memories from our trip is sitting in the front of the dory named Quartz Creek and charging head-on into a rapid, with a beautiful gleaming green wave rising up in front of us. We danced right through, our guide Amber making it look easy.
Amber, who was recently profiled in the Yeti film In Current, gave up a family reunion to guide on this trip. She told her mom that it just wouldn't be right if the first dory trip in Idaho only had men as guides. This trip needed a female guide, and Amber was it.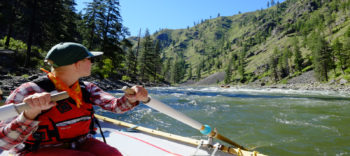 Wild and Scenic, the highest level of protection a river can have in our country, in 1980. That means it will always be preserved in its natural state, and dams and other harmful water projects are prohibited.
There's a certain magic that comes with wild rivers. For me, on this Salmon trip, it was in the moments –
Baking in the hot canyon sun, then plunging into the cold clean river, the most refreshing feeling in the world.
Leaning back in the boat to watch two osprey soaring overhead as clouds gathered over the confluence with the South Fork.
Standing barefoot in cold sand in the morning, drinking hot coffee and listening to a canyon wren calling across the river.
Finding the cherry tree at the Frank Lantz cabin that I remembered from a trip with friends ten years ago.
Pulling up to the beach with the hot springs and watching swirls of butterflies filling the air.
Picking thimbleberries along the creek, hiking up to the cool and shady Pacific Yew grove.
And at Alder Creek Rapid, watching the other dories disappear over the drop then riding through the waves, light as a feather.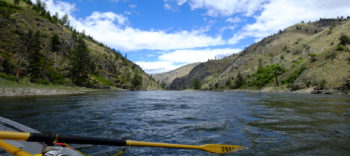 Why do we need wild rivers? Why are places like the Main Salmon so special? The reasons are as practical as clean water, as important as heritage, as personal as love.
That is why, with the 50th anniversary of the Wild and Scenic Rivers Act coming in 2018, American Rivers is launching an effort to protect 5,000 new miles of rivers. So that more people can experience this magic, and we can preserve it for our children.
I'm so grateful to our fantastic OARS guides Hud, Amber, Barry, Jake, Chris and Sarah for making this such a memorable trip, and to OARS for being a company so dedicated to river conservation. Being on the Salmon has made me more fired up than ever to protect more Wild and Scenic Rivers. We can't wait to share more about this exciting campaign.