There is a magical moment on every river trip when the group transforms into a tribe. It is at this moment that life away from the river is put on hold – when profession, politics, agenda fade in the background of your mind. Being on the river is what matters and sharing that experience with others regardless of background is what matters at the moment.
Often, this moment happens on the third night. At least it did on this years' Yampa River Awareness Trip, a trip that American Rivers, Friends of the Yampa and OARS host every year on the Yampa River, the last wild river in the Colorado River Basin. This year's trip, like others included 25 leading water policy experts representing a variety of interests. The purpose; to spend 5 days on the river to build good will, identify common ground, and talk about preserving the Yampa River for future generations.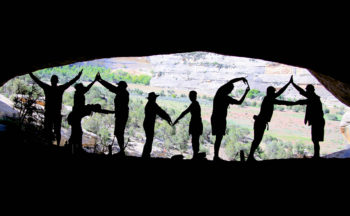 It is not to say that the group dynamic for the previous days and nights is awkward or uncomfortable, it is not. People are just getting to know one another, learning each other's names, getting comfortable using a groover, etc.
In fact, the first night the group shared ceremonial beer supplied by Avery Brewing Company called "Collaboration not Litigation". There is an interesting story behind this beer but you will have to go to the brewery to hear it. It was an appropriate way to start the trip as many of the participants sometimes find themselves on opposite sides of conference room tables when not on a river together.
On the 2nd day, there was a lot of good conversation, laughs, games, and a long hike but nothing like what went down on the third night. It started when a couple of members of the group snuck off, formed a band called Big Willy and The Debris Flow, and wrote a song titled the "Yampa River Blues" The song has dozens of verses, both written and improvised and by the third refrain "Let's keep the Yampa Wild and Free"- we were a tribe. While music, goofy improvised songs and staying up late on the banks of a wild river is nothing new to river trips, that night we sang and laughed like it had never been done before.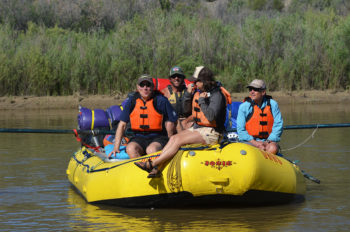 The Yampa River is better off for it. The river now has more influential friends that have experienced the magic of spending time together on a wild river.
This is a good thing as we continue to explore collaborative opportunities to permanently protect this river for fish and wildlife, recreation, and agriculture.
Special thanks to OARS for supporting this trip every year, to Chaco for providing Yampa Sandals for the group and to Avery for the delicious beer.
Tell us your story – what's the greatest third night you've had around the campfire?